Nevada State Bird
| | | |
| --- | --- | --- |
| Mountain Bluebird | Sialia currucoides | Adopted:1967 |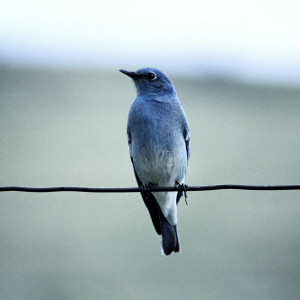 Nevada State Bird: Mountain Bluebird (Sialia currucoides)
Adoption of the Nevada State Bird
It was a long time coming...
The Nevada Federation of Women's Clubs, during the years 1930 and 1931, by vote of the citizens and school children of the state, selected the mountain bluebird as their choice for the state bird of Nevada.
In 1967, Clark County Assemblyman Stan Irwin introduced a bill to designate the mountain bluebird (Sialia currucoides) the official state bird of the State of Nevada. The bill was approved by both houses of the Nevada Legislature and signed by Governor Paul Laxalt on April 4, 1967.
The Nevada Statutes
The following information is excerpted from the Nevada Statutes, Title 19, Chapter 235, Section 235.060.
TITLE 19-MISCELLANEOUS MATTERS RELATED TO GOVERNMENT AND PUBLIC AFFAIRS.
CHAPTER 235-STATE EMBLEMS; GIFTS AND ENDOWMENTS, STATE SEAL AND MOTTO.
SECTION 235.060.

NRS 235.060 State bird. The bird known as the Mountain Bluebird (Sialia currucoides) is hereby designated as the official state bird of the State of Nevada.
(Added to NRS by 1967, 702)
Additional Information
Mountain Bluebird: Cornell Lab of Ornithology: All About Birds.
State Bird List: List of all of the state birds.
Stokes Field Guide to Birds: Western Region: by Donald and Lillian Stokes.
State Birds & Flowers 1000-pc Puzzle: Created at the request of The National Wildlife Federation this design is a beautiful and informative puzzle featuring every state bird perched on the appropriate state flower.
Bird Feeders and Accessories: Backyard Birding > Bird Feeders & Accessories from Amazon.com.
State Names, Seals, Flags, and Symbols: A Historical Guide, Third Edition - Benjamin F. Shearer and Barbara S. Shearer, Greenwood Press, 2002
State Names, Flags, Seals, Songs, Birds, Flowers and Other Symbols: A Study based on historical documents giving the origin and significance of the state names, nicknames, mottoes, seals, flowers, birds, songs, and descriptive comments on the capitol buildings and on some of the leading state histories, Revised Edition - George Earlie Shankle, Ph.D., The H.W. Wilson Company, 1938 (Reprint Services Corp. 1971)
---
Source: Nevada Revised Statutes, (http://leg.state.nv.us/NRS/Index.cfm), April 11, 2005
Source: State Names, Seals, Flags, and Symbols: A Historical Guide, Third Edition - Benjamin F. Shearer and Barbara S. Shearer, Greenwood Press, 2002
Source: State Names, Flags, Seals, Songs, Birds, Flowers and Other Symbols: Revised Edition (Reprint)- George Earlie Shankle, Ph.D., The H.W. Wilson Company, 1938