Colorado State Bird
| | | |
| --- | --- | --- |
| Lark Bunting | Calamospiza melanocorys | Adopted:1931 |
Adoption of the Colorado State Bird
The Lark Bunting was approved as the official state bird of Colorado by the Twenty-eighth Session of the General Assembly of the State of Colorado on April 29, 1931.
About the Colorado State Bird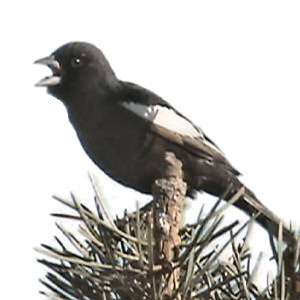 Male Lark Bunting (Calamospiza melancorys)
The Lark Bunting, Calamospiza melanocorys, is a medium-sized sparrow.It is the only member of the genus Calamospiza (Bonaparte, 1838)..
These birds have a large pale bill and a pale wing patch. Adult males in breeding plumage are black except for their white wing patch. Other birds are more sparrow-like in appearance; they have dark brown upperparts and white underparts, with streaking on the back, breast and flanks. The wings are dark with brown edges.
Their breeding habitat is prairie regions in central Canada and the mid-western United States. The nest is an open cup on the ground in a grassy area.
These birds migrate in flocks to southern Texas and Mexico.
They forage on the ground, mainly eating insects in summer and seeds in winter; they sometimes take short flights in pursuit of insects. Outside of the nesting season, they often feed in flocks.
These birds nest in dispersed colonies. Males fly up over their territory and sing while descending to declare ownership of a nesting territory. The song consists of a mix of whistles and trills. The call is a soft hoo.
This bird's numbers have decreased with the loss of natural prairie habitat.
This article is licensed under the GNU Free Documentation License. It uses material from the Wikipedia article "Lark Bunting".
The Colorado Revised Statutes
The following information is excerpted from the Colorado Revised Statutes, Title 24, Article 80, Part 9, Section 24-80-910.
TITLE 24. GOVERNMENT - STATE.
STATE HISTORY, ARCHIVES, AND EMBLEMS.
ARTICLE 80. STATE HISTORY, ARCHIVES, AND EMBLEMS.
PART 9. STATE EMBLEMS AND SYMBOLS.

24-80-910. Lark bunting.
The lark bunting, scientifically known as Calamospiza melancorys Stejneger, is hereby made and declared to be the state bird of the state of Colorado.
Source: L. 31: p. 735, § 1. CSA: C. 152, § 10. CRS 53: § 131-8-10. C.R.S. 1963: § 131-8-10.
Additional Information
Male and Female Lark Bunting: Painting from www.50birds.com.
State Bird List: List of all of the state birds.
Birds of Colorado Field Guide: by Stan Tekiela.
State Birds & Flowers 1000-pc Puzzle: Created at the request of The National Wildlife Federation this design is a beautiful and informative puzzle featuring every state bird perched on the appropriate state flower.
State Names, Seals, Flags, and Symbols: A Historical Guide, Third Edition - Benjamin F. Shearer and Barbara S. Shearer, Greenwood Press, 2002
State Names, Flags, Seals, Songs, Birds, Flowers and Other Symbols: A Study based on historical documents giving the origin and significance of the state names, nicknames, mottoes, seals, flowers, birds, songs, and descriptive comments on the capitol buildings and on some of the leading state histories, Revised Edition - George Earlie Shankle, Ph.D., The H.W. Wilson Company, 1938 (Reprint Services Corp. 1971)
---
Source: Colorado Revised Statutes, (http://198.187.128.12/colorado/lpext.dll?f=templates&fn=fs-main.htm&2.0), April 7, 2005
Source: State Names, Seals, Flags, and Symbols: A Historical Guide, Third Edition - Benjamin F. Shearer and Barbara S. Shearer, Greenwood Press, 2002
Source: State Names, Flags, Seals, Songs, Birds, Flowers and Other Symbols: Revised Edition (Reprint)- George Earlie Shankle, Ph.D., The H.W. Wilson Company, 1938