New Jersey Law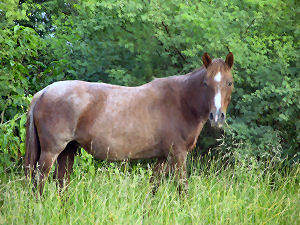 New Jersey State Animal: Horse
Photograph: Andrea Grosse/NBII.Gov
The following information was excerpted from the New Jersey Permanent Statutes, Title 52, Section 52:9A-4.
TITLE 52 STATE GOVERNMENT, DEPARTMENTS AND OFFICERS
SECTION 52:9A-4.
52:9A-4. Horse; designation as state animal
The horse (Equus caballus) is designated as the New Jersey State Animal.
Additional Information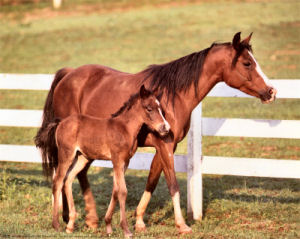 New Jersey State Animal: Horse
Photograhs, prints, and posters
The New Jersey State Animal: The State of New Jersey.
The Horse: The American Museum of Natural History.
Horses: Introduction: Educational Broadcasting Corporation Nature Series.
Equus caballus (Horse) Information and pictures from the University of Michigan Museum of Zoology's Animal Diversity Web.
Equus caballus Linnaeus, 1758: Integrated Taxonomic Information System (ITIS) Here you will find authoritative taxonomic information on plants, animals, fungi, and microbes of North America and the world.
Equus caballus (Horse): CalPhoto photographs. The Biodiversity Sciences Technology group (BSCIT), a part of the Berkeley Natural History Museums at the University of California, Berkeley.
State Mammals: Complete list of official state mammals.
More symbols & emblems: Complete list of official New Jersey state symbols.
Hamilton Farm: The United States Equestrian Team Foundation headquarters, Gladstone, N.J.
Horse Breeds: Breeds of Livestock Project - Oklahoma State University, Division of Agricultural Sciences and Natural Resources, Department of Animal Science.
Equus Caballus: The Magazine of the Domestic Horse - The online journal of equine wellbeing.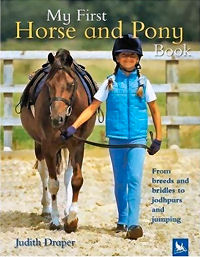 My First Horse and Pony Book
by Judith Draper, Matthew Roberts
My First Horse and Pony Book: From Breeds and Bridles to Jophpurs and Jumping, by Judith Draper, Matthew Roberts. 48 pages. Publisher: Kingfisher (July 4, 2005) Reading level: Ages 4-8. This stunningly photographed book is just what young equestrian enthusiasts need to fuel their excitement, be they budding riders who already have their own pony or those who dream of horse ownership. The informative and inspiring text, combined with exquisite photographs, covers in detail all aspects of first horse and pony facts, care and riding. This comprehensive guide provides a solid foundation in the first principles of horse and pony management and an exciting introduction to the world of riding.
The Horses of Proud Spirit, by Melanie Sue Bowles. 208 pages. Pineapple Press (FL); 1 edition (October 2003) There are approximately seven million horses in America. Each year, over seventy thousand are abused, abandoned, and fated to slaughter by callous and irresponsible owners. With a heart as big as a pasture, author Melanie Bowles takes some of these horses into her sanctuary called Proud Spirit. Here, horses that arrive listless and broken find a home where they finally know safety.
A Good Horse Is Never a Bad Color, by Mark Rashid. 196 pages. Spring Creek Press (February 1996) Rashid uses heart-warming and humorous stories to share his techniques of teaching horses by understanding their view of the world. These tales deal with many facets of buying, owning, and training horses. Stories of Arabs, appaloosas, and paints-mistrusted and mistreated because of their breed-will give you a new perspective on these breeds and others. Rashid's accounts of horses bound for slaughter because they couldn't be trained will inspire you to give your own problem horse another look. And when Wil, the ugliest horse you can imagine, turns out to be the best on the ranch, you'll understand why a good horse is never a bad color.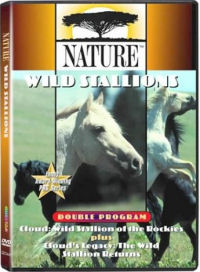 Cloud: Wild Stallion of the Rockies
PBS Nature Series
The Soul of a Horse: Life Lessons from the Herd , by Joe Camp. 256 pages. Harmony; 1 edition (April 29, 2008) A surprise birthday gift plunged Joe Camp and his wife, Kathleen, into the world of horses as complete neophytes without a clue as to what horses needed or wanted. The Camps went searching for logic and sense in the rule books of traditional horse care and what they found was not what they had expected. Written for everyone who has ever loved a horse or even loved the idea of having a horse in their lives, this memoir leads us on a riveting voyage of discovery as Joe and Kathleen navigate uncharted, often politically incorrect territory on their way to achieving a true relationship with their horses.
Seabiscuit: An American Legend, by Laura Hillenbrand. 399 pages. Ballantine Books; Ballantine Readers Circle edition (March 26, 2002) Seabiscuit was one of the most electrifying and popular attractions in sports history and the single biggest newsmaker in the world in 1938, receiving more coverage than FDR, Hitler, or Mussolini. But his success was a surprise to the racing establishment, which had written off the crooked-legged racehorse with the sad tail. Three men changed Seabiscuit's fortunes.
Wild Stallions, PBS Nature Series - Two programs: Cloud: Wild Stallion of the Rockies & Cloud's Legacy: The Wild Stallion Returns.