Delaware Law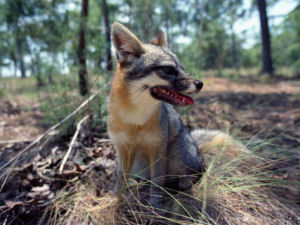 Delaware State Wildlife Animal: Grey Fox
Photographs to purchase
The following information was excerpted from the Delaware Code, Title 29, Chapter 3, Section 323.
Title 29 State Government
CHAPTER 3. STATE SEAL, SONG AND SYMBOLS
SECTION 323
§ 323. State wildlife animal.
The grey fox is the official wildlife animal of the State.
77 Del. Laws, c. 286, § 1.;
Additional Information
Furtive Foxes

: by Joe Rogerson. Outdoor Delaware, Fall 2011.
Gray Fox - Urocyon cinereoargenteus: New Hampshire Public Television: NatureWorks.
Common Gray Fox (Urocyon cinereoargenteus): National Wildlife Foundation's eNature.com field guide.
Urocyon cinereoargenteus (Gray Fox): Smithsonian Museum of Natural History - North American Mammals.
Urocyon cinereoargenteus Common Gray Fox: Encyclopedia of Life.
Urocyon cinereoargenteus (Gray Fox): The University of Michigan Museum of Zoology: Animal Diversity Web.
Urocyon cinereoargenteus - (Schreber, 1775), Gray Fox: A network connecting science with conservation - NatureServe Explorer: An Online Encyclopedia of Life.
Urocyon cinereoargenteus (Schreber, 1775): Integrated Taxonomic Information System (ITIS) Here you will find authoritative taxonomic information on plants, animals, fungi, and microbes of North America and the world.
State wildlife animals: Complete list of official state wildlife animals from NETSTATE.COM
More symbols & emblems: Complete list of official Delaware state symbols from NETSTATE.COM.


Foxes
Diane Swanson
Welcome to the World of Foxes, by Diane Swanson. 32 pages. Publisher: Gareth Stevens Publishing (April 2003) Reading level: Grades 1+
The World of Animals series opens nature's door to wildlife and invites young readers to step inside. This series introduces amazing animals in a family context - where they live, what they eat, how they play!
What talents! Foxes can smell a rabbit hours after one has hopped by. Some can grip floating logs and "sail" to nearby islands. Gray foxes can even climb trees! If you thought a fox was just another pretty face, this book proves otherwise. From the frozen Arctic to the sweltering desert, Diane Swanson checks into these savvy animals and discovers the amazing things they do.


Animal Predators
Foxes
Sandra Markle
Animal Predators: Foxes, by Sandra Markle. 39 pages. Publisher: Lerner Publications (September 1, 2009) Reading level: Grades 3+
Trotting through the snow, a fox keeps its nose to the ground. It uses its amazing senses of smell and hearing to track its prey. Soft fur between its toes muffles its footsteps. When the fox spots a mouse, it leaps forward and pounces, mouth first. With the fox?s excellent hunting skills, the mouse doesn?t stand a chance against this skillful predator.


The World
of the Fox
Rebecca Grambo
The World of the Fox, by Rebecca Grambo. 109 pages. Publisher: Sierra Club Books for Children; 1st Edition. edition (September 1995)
With their quick intelligence, amazing adaptability, and expert skill as hunters, foxes are among the most successful animals in the world. In her personal, highly readable text, Rebecca Grambo describes in vivid detail the fox's acute sense of hearing, which allows it to locate scurrying insects; its superb sense of smell, which can easily pick up the scent of a dog's day-old paw print; and its excellent night vision, which can detect a rabbit's blinking eyelid in the shadows.
The World of the Fox applauds the resilience of this graceful, mysterious animal and argues that we must do all we can to ensure that the fox will continue to thrive.

Living On the Edge
Foxes
J. David Henry
Living On the Edge: Foxes, by J. David Henry. 143 pages. Publisher: Northword Press (November 1996)
NorthWord's Wildlife Series are animal specific, natural history books that are informative and entertaining.
Contains engaging texts by leading wildlife authors and experts.
Includes life cycle and natural history information, as well as observations and stories from field research.
Showcases animals in their habitats with stunning color photography


Running with
the Fox
David Macdonald
Running with the Fox, by David Macdonald. 224 pages. Publisher: HarperCollins Publishers Ltd (September 21, 1989)
MacDonald is a population biologist and his goal is to understand the dynamics of fox life, from food and mating to migration and mortality.
Over the course of almost 30 years of study, he has raised many fox litters from whelps and has seen many of those same animals crushed by cars, snared by keepers, shot by farmers, accidentally butchered by combines, or perish from disease or abuse inflicted by other fox or feral dogs. In the wild, few things ever die of old age or in their sleep. Despite all, the fox not only persists but thrives. How?
Running With the Fox is David Macdonald's masterpiece.