---
You may double left-click on a word on this page to retrieve its definition.
Idaho State Amphibian
Idaho Giant Salamander
Dicamptodon aterrimus
Adopted:
April 2, 2015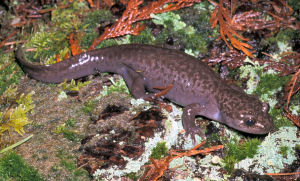 Idaho State Amphibian: Idaho Giant Salamander
Photograph: © William Leonard. Used with permission.
The Idaho giant salamander was officially adopted as the Idaho state amphibian when Governor C.L. "Butch" Otter signed House Bill No. 1 on April 2, 2015 .
The process that resulted in an official Idaho state amphibian spanned five years; a long and inspirational story.
2010 Beginnings
The salamander's path to officialdom began in 2010 when a group of fourth and fifth graders from Calvary Christian School, in Boise, decided to become civically involved with the affairs of state by promoting a bill to name an official state amphibian for Idaho. Fifteen states had already adopted official amphibians and similar legislation was in the works in Ohio.
Then State Representative Rich Jarvis agreed to work on behalf of the students and sponsor legislation to designate the Idaho giant salamander the official state amphibian for the State of Idaho.
Students offered that the Idaho giant salamander was a good choice because it was native to Idaho and was the only amphibian with the state's name in it.
The efforts of the Calvary Christian School students were not successful. Their bill, House Bill No. 389, was printed but did not receive a full committee hearing, a prerequisite for legislative approval. The proposal was stopped dead in its tracks.
Though unsuccessful in their endeavors disappointed students remarked that lessons had been learned and that they would be back next year for another attempt.
"I learned that you can?t just come up with anything and have it passed,? said Emma. ?A lot of people have to agree that it is good."
(Hurst "Students Disappointed in Lawmakers for Failed Bill")
"We could really make a difference with a lot of support," said Katie.
(Hurst "Students Disappointed in Lawmakers for Failed Bill")
LEGISLATURE OF THE STATE OF IDAHO

Sixtieth Legislature Second Regular Session - 2010

IN THE HOUSE OF REPRESENTATIVES

HOUSE BILL NO. 389

BY JARVIS

AN ACT

RELATING TO A STATE AMPHIBIAN; AMENDING CHAPTER 45, TITLE 67, IDAHO CODE, BY THE ADDITION OF A NEW SECTION 67-4513, IDAHO CODE, TO PROVIDE THAT THE IDAHO GIANT SALAMANDER IS DESIGNATED AND DECLARED TO BE THE STATE AMPHIBIAN OF THE STATE OF IDAHO.

Be It Enacted by the Legislature of the State of Idaho:

SECTION 1. That Chapter 45, Title 67, Idaho Code, be, and the same is hereby amended by the addition thereto of a NEW SECTION, to be known and designated as Section 67-4513, Idaho Code, and to read as follows:

67-4513. STATE AMPHIBIAN DESIGNATED. The Idaho Giant Salamander is hereby designated and declared to be the state amphibian of the state of Idaho.
2011 Legislative activity on hiatus
Enter fourth grader Ilah Hickman, White Pine Elementary School in Burley.
As part of her studies of official Idaho symbols, Ilah was assigned a project to write a mock letter promoting an additional state symbol.
The assignment got her thinking. She determined that she would pursue the goal of adopting an official state symbol for real.
During the summer of 2011, she decided to pursue the adoption of an official state amphibian for Idaho. Her choice was the Idaho giant salamander.
We do not know whether her choice was influenced by the 2010 attempt made by the Calvary Christian School students in Boise, but we would not be surprised if it was.
In any case, the 2011 session of the Idaho State Legislature passed without any activity regarding an official amphibian.
2012 Getting serious
Ilah Hickman was a determined young lady, now in the fifth grade.
In pursuit of her goal, she enlisted the aid of State Senator Mitch Toryanski and the Idaho Department of Fish and Game. The Idaho Conservation League also came on board.
Sara Arkle, Community Conservation Associate with the Idaho Conservation League noted that
Ilah is an inspiring young woman. She is committed to making the salamander Idaho's state amphibian. To her, the giant salamander is a perfect symbol of Idaho, complete with markings on its back representing "a topographical map of the Bitterroot." She tried to bring a bill last session and, from what I can gather, she will keep trying until it gets done.
(Arkle "Pint-sized Tenacity")
Unfortunately, the efforts of Ilah and Sen. Toryanski went unrewarded as the 2012 Legislature adjourned.
2013 House State Affairs Committee agrees to full hearing
As has been pointed out, Ilah was a very determined you lady. Now in sixth grade and working with Idaho State Representative Janie Ward-Engelking, Ilah returned to the legislative process again to pursue her dream.
On February 27, 203, House Bill No. 230 was presented in the House State Affairs Committee.
Rep. Ward-Engelking brought Ilah to a committee hearing to make the pitch.
"I knew she could do it," said Ward-Engelking, who taught school for 33 years. "She didn?t need me."
(Russell " Sixth-grader wins over lawmakers with her pitch for official state amphibian")
Ilah presented her case
?Idaho is home to many amazing amphibians,? sixth-grader Ilah Hickman told the committee. ?One should be selected to represent our great state.? She proposed the Idaho giant salamander as Idaho?s state amphibian.

?It bears the name of Idaho, and I think that the skin on it looks like the topographical map of our Bitterroot mountain range,? Ilah told the committee. ?A lot of states have reptiles and amphibians, but Idaho doesn?t,? she noted. ?Many have frogs and newts and salamanders.?

Ilah told the committee, "If you?re going to vote against this proposal, I?m taking suggestions of what I can do to get more support." She added, "I?ve polled my class and 26 out of 32 said that they would really like it." Asked by lawmakers why some opposed it, Ilah explained they were just busy. "They were working on their homework when I asked."
(Russell " Sixth-grader wins over lawmakers with her pitch for official state amphibian")
Rep. Ward-Engleking was right. Indeed, Ilah carried the day on her own. The committee praised Ilah for her efforts and voted unanimously to hold a full hearing concerning the adoption of a state amphibian.
Impressed with Ilah's presentation, Representative Brent Crane suggested that she bring members of her class to the full hearing to testify on the Idaho giant salamander's behalf. House Bill No. 230 was on its way.
Unfortunately, a full hearing was not in the cards. It never happened.
But anyone who knew Ilah at that point, knew this was not the end of her efforts. She made it very clear that she intended to push this legislation until it became law.
2014 Senate OKs Idaho state amphibian
From the Washington Times:

The Idaho Senate voted 33-1 on Thursday, March 26th, 2015. Fourteen-year-old Ilah Hickman has been lobbying the Idaho Statehouse for the past five years, attempting to convince lawmakers the Idaho giant salamander deserved to be the fourteenth state symbol. Hickman's proposal was the first bill to be killed this legislative session in a House committee. However, that same panel revived the bill in a surprise vote last week, where it then quickly cleared each pending hurdle.
Additional Information
Idaho Giant Salamander for State Amphibian: FaceBook© page maintained by Ilah Hickman a very remarkable young lady. Activity from 2013-215. If you are interested in getting a new state symbol adopted for your state, Ilah's story is for you.
Idaho Giant Salamander

: "Wildlife Express" newsletter from the Idaho Fish and Game Department. Volume 29/Issue 2, October 2015.
Dicamptodon aterrimus (Idaho giant salamander): The "Encyclopedia of Life" is a project that gathers, generates, and shares knowledge in an open, freely accessible and trusted digital resource. It's supported by the Atlas of Living Australia, La Comisión Nacional para el Conocimiento y Uso de la Biodiversidad (CONABIO), Harvard University, Marine Biological Laboratory, New Library of Alexandria, and the Smithsonian Institution's National Museum of Natural History.
Dicamptodon aterrimus - (Cope, 1868 "1867"), Idaho Giant Salamander: A network connecting science with conservation - NatureServe Explorer: An Online Encyclopedia of Life.
Puma concolor coryi (Cope, 1868): Integrated Taxonomic Information System (ITIS) Here you will find authoritative taxonomic information on plants, animals, fungi, and microbes of North America and the world.
State amphibians: Complete list of official state amphibians from NETSTATE.COM
More symbols & emblems: Complete list of official Idaho state symbols from NETSTATE.COM.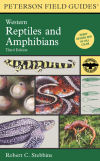 Western Reptiles
and Amphibians
Robert C. Stebbins
Western Reptiles and Amphibians (Peterson Field Guide), by Robert C. Stebbins. 560 pages. Publisher: Houghton Mifflin Harcourt; 3 edition (March 27, 2003)
This third edition covers all the species of reptiles and amphibians found in western North America. More than 650 full-color paintings and photographs show key details for making accurate identifications. Up-to-date color range maps give species' distributions. Important information on conservation efforts and survival status rounds out the detailed species descriptions.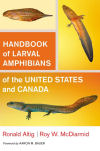 Handbook of
Larval Amphibians
Ronald Altig
Roy W. McDiarmid
Handbook of Larval Amphibians of the United States and Canada, by Ronald Altig, Roy W. McDiarmid. 368 pages. Publisher: Comstock Publishing; 1 edition (April 28, 2015)
Handbook of Larval Amphibians of the United States and Canada, written by the foremost experts on larval amphibians, is the first guide of its kind and will transform the fieldwork of scientists and fish and wildlife professionals.
Generously illustrated, this essential handbook for herpetologists, ecologists, and naturalists features comprehensive keys to eggs, embryos, salamander larvae, and tadpoles; species accounts; a glossary of terms; and an extensive bibliography. The taxonomic accounts include a summarization of the morphology and basic natural history, as well as an introduction to published information for each species. Tadpole mouthparts exhibit major characteristics used in identifications, and the book includes illustrations for a number of species. Color photographs of larvae of many species are also presented.