The New Hampshire State Quarter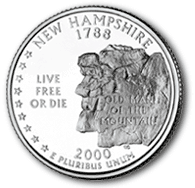 The U.S. Mint began shipping the New Hampshire State quarter to Federal Reserve Banks on August 7, 2000.

The New Hampshire quarter depicts one of New Hampshire's greatest natural attractions, "The Old Man of the Mountain," a rock formation found on Mt. Cannon in Franconia Notch.

From the right view, this unique rock formation, comprised of five layers of Conway red granite, depicts the distinct profile of an elderly man gazing eastward. Geographers believe that the layers of granite were positioned by the melting and slipping away action of an ice sheet that covered the Franconia Mountains at the end of the glacial period, some 2,000 to 10,000 years ago.

The new quarter features nine stars, signifying New Hampshire's status as the ninth state to ratify the U.S. Constitution. The state motto, "Live Free or Die," written by New Hampshire Revolutionary War hero, John Stark, also appears on the quarter. The design was based on suggestions given to the New Hampshire Commemorative Quarter Committee, established by New Hampshire Governor Shaheen to moderate a statewide design contest.

"The New Hampshire quarter will give the rest of the nation a sense of New Hampshire's natural beauty, its rich history and the character of our people," said Governor Shaheen.

NOTE: The Old Man of the Mountain fell from his perch, 1,200 feet above Profile Lake in Franconia Notch, on May 3, 2003.

Source: United States Mint, http://www.usmint.gov, January 17, 2001.