The Massachusetts State Quarter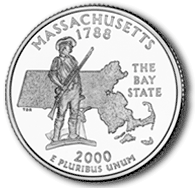 The first quarter of the new millennium features the famous "Minuteman" statue standing in The Minuteman National Historical Park in Concord, Massachusetts. An outline of the state and the state's nickname complete the design.
The Minutemen, consisting of regular farmers and colonists were always at-the-ready and prepared to rally to battle within a minute's notice... so the name "Minutemen". They played a large role in the Revolutionary War and were instrumental in the defeat of the British armies.
The design selection, initiated in 1998 by Governor Paul Cellucci with a challenge to Massachusetts elementary school children to submit suggestions, resulted in more than 100 submissions. The Minuteman design concept was submitted by a seventh and an eighth grader.
Source: United States Mint, http://www.usmint.gov, March 1, 2001.