Robert Edwin Peary
Born: May 6, 1856
Place: Cresson, Pennsylvania
Died: February 20,1920
Place: Washington, District of Columbia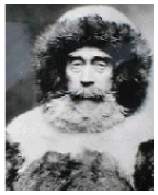 Born in Pennsylvania, Robert Edwin Peary spent his childhood in Cape Elizabeth and Portland, Maine where his mother brought him after the death of his father. Robert graduated from Portland High School and earned a degree in Civil Engineering from Bowdoin College as a member of the class of 1877. After college, he moved to Freyeburg, Maine where he worked as the town's surveyor. Later, Peary took work with the Coast and Geodetic Survey and moved to Washington, DC.
Peary was a Navy man from the time he entered the U.S. Navy Civil Engineer Corps in 1881 until his retirement in 1911 with a rank of Rear Admiral. His first taste of exploration was as chief assistant on an expedition to Nicaragua to survey a route for the planned alternative to the Panama Canal.
Robert Peary is best known for his exploration of the Arctic and had generally been credited with being the first man to have reached the North Pole in 1909, although this assertion was cast into doubt by Frederick A. Cook who claimed to have reached the Pole in 1908. Current thinking, originating in the 1970's and meticulously evidenced in Robert Bryce's book Cook & Peary : The Polar Controversy, Resolved indicates that neither man actually reached the North Pole and that they both lied about it. Perhaps the controversy will never be resolved and it should certainly not detract from the contributions of this great explorer who showed courage and perseverence in desolate regions at the top of the world.
From 1892 to 1909, Robert Peary made numerous Arctic treks exploring northern Greenland. Peary Land, a region in northern Greenland along the Arctic Ocean, between Victoria Fjord and the Greenland Sea is named for Robert Peary. This region is one of the northmost land areas in the world and Greenland's largest ice-free part, inhabited by herds of musk-oxen and little else. Admiral Peary explored this region in 1892, 1895 and 1900.
Peary discovered Independence Fjord and first found evidence that Greenland was an island.
In 1893-1894, he made his first attempt to reach the North Pole. In 1895 and 1896 he spent time transporting meteoric iron from Greenland to the United States. From 1898 to 1902 he explored routes to the North Pole from Etah in northwestern Greenland and from Ellesmere Island in Canada's Northwest Territory.
In a ship built to his own specification, Peary sailed to Ellesmere Island in 1905 in his second attempt to reach the North Pole. Weather conditions prevented a successful outcome.
1908 found Peary bound, for the third time, for the North Pole. This time was the charm, or so he claimed when he announced on September 1, 1909 that he had reached his destination.
---