M A I N E B O O K S T O R E L O B B Y
Welcome to the Maine State Bookstore. We're glad you stopped by and we hope that you find exactly what you're looking for. Shopping categories include books about Maine people, books about Maine History, Maine Cookbooks, Hiking and enjoying the Maine outdoors, Maine reference books, and calendars, magazines and newspapers, DVD and videos, and posters under MORE. In The Maine State Bookstore you will find information about Maine for readers of all ages. Age ranges for books for young readers are highlighted in red. Have fun.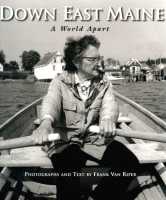 Down East Maine by Frank Van Riper
Acclaimed journalist, essayist, and documentary photographer Frank Van Riper has produced a stunning portrait of the people who live and work in one of America's last coastal frontiers, Down East Maine. "It's a place of raw and fragile beauty, where only the foolhardy challenge the tides, the wind, or the weather," writes Van Riper.

In words and duotone images that reflect a deep understanding of this special region, Van Riper chronicles the people who struggle to find a life in an environment that is as harsh as it is beautiful.