Iowa State Tree
| | | |
| --- | --- | --- |
| Oak | Quercus spp. | Adopted:March 14, 1961 |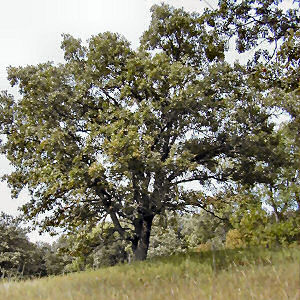 Iowa State Tree: Oak
This is a bur oak.
Adoption of the Iowa State Tree
The oak tree was chosen by the 59th Iowa General Assembly as Iowa's official tree on March 13, 1961. House Joint Resolution No. 10 was signed by Governor Norman A. Erbe on March 14, 1961.
According to the web site of the Iowa General Assembly,
"The Iowa General Assembly chose the oak because it is abundant in the state and serves as shelter, food and nesting cover for many animals and birds. It is difficult to find a tract of natural woodland in Iowa that does not have in it at least one species of oak. No other group of trees is more important to people and wildlife. Acorns, the nuts of oak trees, are a dietary staple of many animals and birds. Deer, wild turkeys, pheasants, quail, wood ducks, raccoons, squirrels, chipmunks, bluejays, nuthatches, grackles and several kinds of woodpeckers are a few of the species that depend on acorns for a significant portion of their diet."
And though only a small percentage of the oak forests remain, the oaks are still one of Iowa's leading commercial timber crops. Oaks are used as construction lumber, railroad ties, fuel, fence posts, mine props, flooring, furniture, ships and boats, tool handles, railroad cars, interior trim, barrels and kegs.
The legislation naming the Iowa state tree did not specify a particular variety of oak tree. Among the 60 or so species of oak, 13 are native to the state of Iowa.
Because a certain species of oak was not named, any species can be considered the Iowa state tree. Perhaps because it is so widely distributed throughout the state, the bur oak (Quercus macrocarpa) is the species often identified as the state tree. According to Chris Feeley at The Department of Natural Resources Ecology and Management, the bur oak is the only native oak that is found in all Iowa counties. In the late 1800s, the bur oak was selected as the most typical tree of Iowa for planting in San Francisco's Golden Gate Park.
Additional Information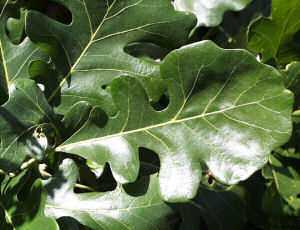 Iowa State Tree: Oak
These are bur oak leaves.
Paul Wray, Iowa State University, www.forestryimages.org
Quercus spp.: University of Connecticut Plant Database of Trees, Shrubs and Vines.
Tree Identification Fact Sheets from the Virginia Tech:
Bur Oak (Quercus macrocarpa Michx.) Landowner Factsheet
White Oak (Quercus alba L.) Landowner Factsheet
Pin Oak (Quercus palustris Muenchh.)
Swamp White Oak (Quercus bicolor Willd.)
Shingle Oak (Quercus imbricaria Michx.)
Blackjack Oak (Quercus marilandica Muenchh.)
Chinkapin Oak (Quercus muehlenbergii Engelm.)
Post Oak (Quercus stellata Wangenh.) Landowner Factsheet
Black Oak (Quercus velutina Lam.) Landowner Factsheet
The Oaks: Iowa State University: Forestry Extension.
Plant Profile for Quercus macrocarpa Michx. (Bur Oak): USDA, NRCS. 2004. The PLANTS Database, Version 3.5 (http://plants.usda.gov). National Plant Data Center, Baton Rouge, LA 70874-4490 USA.
Quercus macrocarpa Michx. (Bur Oak): United States Department of Agriculture: Forest Service: Agriculture Handbook 654: Silvics of North America.
State Tree List: List of all of the state state trees.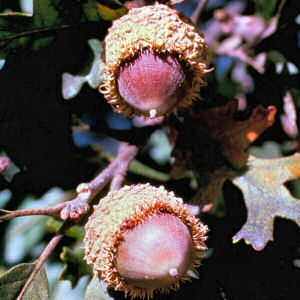 Iowa State Tree: Oak
This is bur oak fruit (acorns).
Forest and Shade Trees of Iowa
: (Hardcover) by Peter J. Van Der Linden and Donald R. Farrar. Iowa State Press; 2nd edition (October 30, 1993) Special Order.
A Field Guide to Eastern Trees (Peterson Field Guides) (Paperback)
: by George A. Petrides, Janet Wehr (Illustrator), Roger Tory Peterson (Series Editor), Houghton Mifflin; 2 edition (July 15, 1998).
A Field Guide to Trees and Shrubs : Northeastern and north-central United States and southeastern and south-central Canada (Peterson Field Guides(R))
: by George A. Petrides (Illustrator), Roger Tory Peterson (Series Editor), Houghton Mifflin; 2 edition (September 6, 1973).
A Field Guide to Eastern Forests : North America (Peterson Field Guides(R)) (Paperback)
: by John C. Kricher (Photographer), Gordon Morrison (Illustrator), Roger Tory Peterson (Series Editor), Houghton Mifflin (October 15, 1998).
National Audubon Society Field Guide to North American Trees : Eastern Region
: by Elbert Luther Little. Knopf; Chanticleer Press ed edition (May 12, 1980).
America's Famous and Historic Trees: From George Washington's Tulip Poplar to Elvis Presley's Pin Oak (Hardcover)
by Jeffrey G. Meyer. America's Famous and Historic Trees tells the stories of various trees that Meyer and his cohorts rescued or propagated: oftentimes, when trees were going to be cut down, he and his workers headed off the bulldozers, rescuing the tree with their massive tree hoe. Other trees--like the Indian Marker Pecan in southeast Dallas--were propagated before they died.
Trees : National Champions (Hardcover)
by Barbara Bosworth. Bosworth captures the ineffable grace and dignity of trees with clarity and directness: the green ash that shades a midwestern crossroads, the common pear that blooms in a Washington field, and the Florida strangler fig with its mass of entwining aerial roots. Her black and white photographs, panoramic views taken with an 8 x 10 camera, show the immensity of the largest species and the hidden triumphs of the smallest
Plants, Seeds & Flowers
: Bulbs, seeds, plants, fertilizer, plant containers and more.
Gardening Tools
: Pruners, rakes, shovels, hoes, trowels, cultivators and tillers, greenhouses, yard carts and more.
State Names, Seals, Flags, and Symbols: A Historical Guide, Third Edition - Benjamin F. Shearer and Barbara S. Shearer, Greenwood Press, 2002
State Names, Flags, Seals, Songs, Birds, Flowers and Other Symbols: A Study based on historical documents giving the origin and significance of the state names, nicknames, mottoes, seals, flowers, birds, songs, and descriptive comments on the capitol buildings and on some of the leading state histories, Revised Edition - George Earlie Shankle, Ph.D., The H.W. Wilson Company, 1938 (Reprint Services Corp. 1971)
---
Source: Iowa General Assembly, (http://www.legis.state.ia.us/), October 30, 2005
Source: Iowa State University Forestry Extension, (http://www.extension.iastate.edu/), October 30, 2005
Source: State Names, Seals, Flags, and Symbols: A Historical Guide, Third Edition - Benjamin F. Shearer and Barbara S. Shearer, Greenwood Press, 2002
Source: State Names, Flags, Seals, Songs, Birds, Flowers and Other Symbols: Revised Edition (Reprint)- George Earlie Shankle, Ph.D., The H.W. Wilson Company, 1938