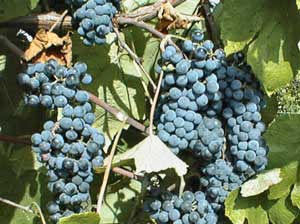 Missouri State Grape: Norton/Cynthiana
Courtesy: Missouri Secretary of State
Missouri Law
The following information was excerpted from the Missouri Revised Statutes, Title 2, Chapter 10, Section 10.160.
TITLE II SOVEREIGNTY, JURISDICTION AND EMBLEMS
Chapter 10 State Emblems
Section 10.160
State grape.
10.160. The Norton/Cynthiana grape, designated as Vitis aestivalis, is hereby selected for, and shall be known as, the official state grape of the state of Missouri.
(L. 2003 S.B. 651)
Additional Information
The State Grape: Missouri Office of the Secretary of State - Missouri State Symbols.
The Cold Hardiness of Grapes: Missouri State University - Mountain Grove.
Norton, America's True Grape: Whence, and Whither? : by Paul L. Roberts - Missouri Wine Country.
Norton | Cynthiana: Comprehensive source of information on North American wines and wineries.
Summer Grape Vitis aestivalis Michx.: Virginia Tech, College of Natural Resources: Department of Forestry.
Vitis aestivalis (Summer Grape): USDA, NRCS. 2004. The PLANTS Database, Version 3.5 (http://plants.usda.gov). National Plant Data Center, Baton Rouge, LA 70874-4490 USA.
Vitis aestivalis Michx.: Integrated Taxonomic Information System (ITIS) Here you will find authoritative taxonomic information on plants, animals, fungi, and microbes of North America and the world.
State Fruit: Complete list of official state fruit.
More symbols & emblems: Complete list of official Missouri state symbols.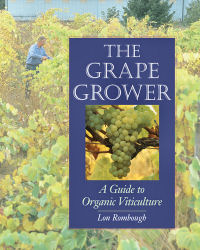 The Grape Grower
by Lon J. Rombough
The Grape Grower: A Guide to Organic Viticulture, by Lon J. Rombough. 304 pages. Chelsea Green (December 1, 2002) From finding and preparing the right site for your vineyard to training, trellising, and pruning vines to growing new grapes from seeds and cuttings, The Grape Grower offers thorough and accessible information on all the basics.
General Viticulture, by A. J. Winkler, James A. Cook, W. M. Kliewer, Lloyd A. Lider. 710 pages. University of California Press; 2nd edition (December 13, 1974) Wherever grapevines are cultivated, this book will be welcome because it fills a long-standing need for a clear, concise treatment of modern viticulture. During the past fifty years, more progress has been made in the science and art of growing grapes for table use and raisin or wine production than in any previous century.
From Vines to Wines: The Complete Guide to Growing Grapes and Making Your Own Wine, by Jeff Cox. 256 pages. Storey Publishing, LLC; 3 edition (January 3, 1999) From breaking ground to savoring the finished product, Jeff Cox's From Vines to Wines is the most complete and up-to-date guide to growing flawless grapes and making extraordinary wine.
The Omnivore's Dilemma: A Natural History of Four Meals, by Michael Pollan. 464 pages. Penguin Press HC, The (April 11, 2006) The bestselling author of The Botany of Desire explores the ecology of eating to unveil why we consume what we consume in the twenty-first century
In Defense of Food: An Eater's Manifesto, by Michael Pollan. 256 pages. Penguin Press HC, The (2008) In looking toward traditional diets the world over, as well as the foods our families-and regions-historically enjoyed, we can recover a more balanced, reasonable, and pleasurable approach to food. Michael Pollan's bracing and eloquent manifesto shows us how we might start making thoughtful food choices that will enrich our lives and enlarge our sense of what it means to be healthy.
Garden tools
from Amazon.com!
Custom Search