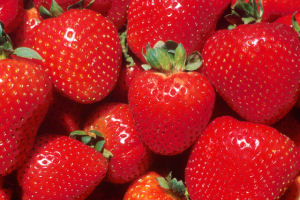 Oklahoma State Fruit: Strawberry
Photograph: ARS Photo (by Brian Prechtel)
Oklahoma Law
The following information was excerpted from the Oklahoma Statutes, Title 25, Section 25-98.10.
Title 25. Definitions and General Provisions
SECTION 25-98.10
§25-98.10. Official state fruit.
The strawberry is hereby designated and adopted as the official fruit of the State of Oklahoma.
Added by Laws 2005, c. 63, § 1, eff. Nov. 1, 2005.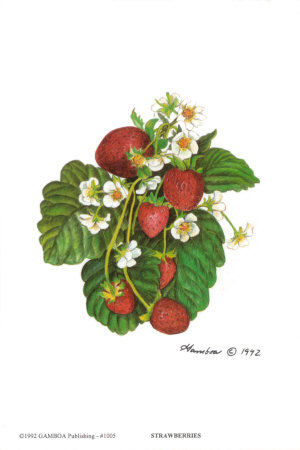 Oklahoma State Fruit: Strawberry
Strawberry photographs, prints, and posters
Additional Information
Stilwell Strawberry Festival: The Stilwell Strawberry Festival has been around since 1948. It is always held on the second Saturday in May and is a huge event in the town of Stilwell.
Research into the Strawberry genome: Virginia Tech, College of Natural Resources: Department of Forestry.
Strawberry (Fragaria spp.): Purdue University - Horticulture & Landscape Architecture.
Fragaria L. (Strawberry): USDA, NRCS. 2009. The PLANTS Database (http://plants.usda.gov, 27 March 2009). National Plant Data Center, Baton Rouge, LA 70874-4490 USA.
Fragaria L.: Integrated Taxonomic Information System (ITIS) Here you will find authoritative taxonomic information on plants, animals, fungi, and microbes of North America and the world.
Fragaria spp. (Strawberry): CalPhoto photographs. The Biodiversity Sciences Technology group (BSCIT), a part of the Berkeley Natural History Museums at the University of California, Berkeley.
State Fruit: Complete list of official state fruit.
More symbols & emblems: Complete list of official Oklahoma state symbols.
Strawberry Hints & Tips Guide: A guide for the perfect strawberry.

: Oklahoma State University: Cooperative Extension Service.
Strawberry Fields Forever: An Oklahoma Tradition.
Strawberries: How to grow strawberries from the resource libraries at Garden Guides.
Strawberries: Organic Production: This publication provides an overview of organic strawberry production methods, covering integrated pest management and weed control techniques. National Sustainable Agriculture Information Service.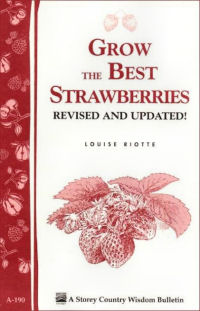 Grow the Best Strawberries
by Louise Riotte
Grow the Best Strawberries: Storey Country Wisdom Bulletin A-190, by Louise Riotte. 32 pages. Storey Publishing, LLC; Rev Upd edition (January 10, 1998) Storey's Country Wisdom Bulletins contain practical, hands-on instructions designed to help you master dozens of country living skills quickly and easily. From traditional skills to the newest techniques, Storey's Bulletins provide a foundation of earth-friendly information for the way you want to live today.
Strawberries, by J. F. Hancock. 237 pages. CABI (February 17, 2000) Product Description Similar to other books in this series, this volume provides a broad scientific review of strawberries and their production methods. Written for growers and home gardeners, it covers all aspects, from taxonomy, distribution, and morphology to fruit ripening, storage, and processing.
Totally Strawberries Cookbook, by Helene Siegel, Karen Gillingham. 95 pages. Celestial Arts (April 1999) Not usually considered to be the most versatile of ingredients and virtually restricted to desserts, strawberries served Siegel-style confound the experts once again! Don't miss her Spinach, Walnut, Citrus, and Strawberry Salad or her Savory Salsa with Red Peppers, Red Onions, Cucumbers, Chiles, and Strawberries.
The Omnivore's Dilemma: A Natural History of Four Meals, by Michael Pollan. 464 pages. Penguin Press HC, The (April 11, 2006) The bestselling author of The Botany of Desire explores the ecology of eating to unveil why we consume what we consume in the twenty-first century
In Defense of Food: An Eater's Manifesto, by Michael Pollan. 256 pages. Penguin Press HC, The (2008) In looking toward traditional diets the world over, as well as the foods our families-and regions-historically enjoyed, we can recover a more balanced, reasonable, and pleasurable approach to food. Michael Pollan's bracing and eloquent manifesto shows us how we might start making thoughtful food choices that will enrich our lives and enlarge our sense of what it means to be healthy.
Garden tools from Amazon.com!