HOME
INTRO
SYMBOLS
ALMANAC
ECONOMY
GEOGRAPHY
STATE MAPS
PEOPLE
FORUM
NEWS
COOL SCHOOLS
STATE QUIZ
STATE LINKS
BOOK STORE
MARKETPLACE
NETSTATE.STORE
NETSTATE.MALL
GUESTBOOK
CONTACT US


---
Double click any word in document for definition.
Nevada State Flag
Nevada State Flag
Adopted:
March 26, 1929
Print Flag Image
Left-click on the image below to print the flag image. A window will be displayed that will allow you to print the image or cancel the print operation. JavaScript must be enabled within your browser.
To learn about how the Nevada state flag came to be adopted, click here.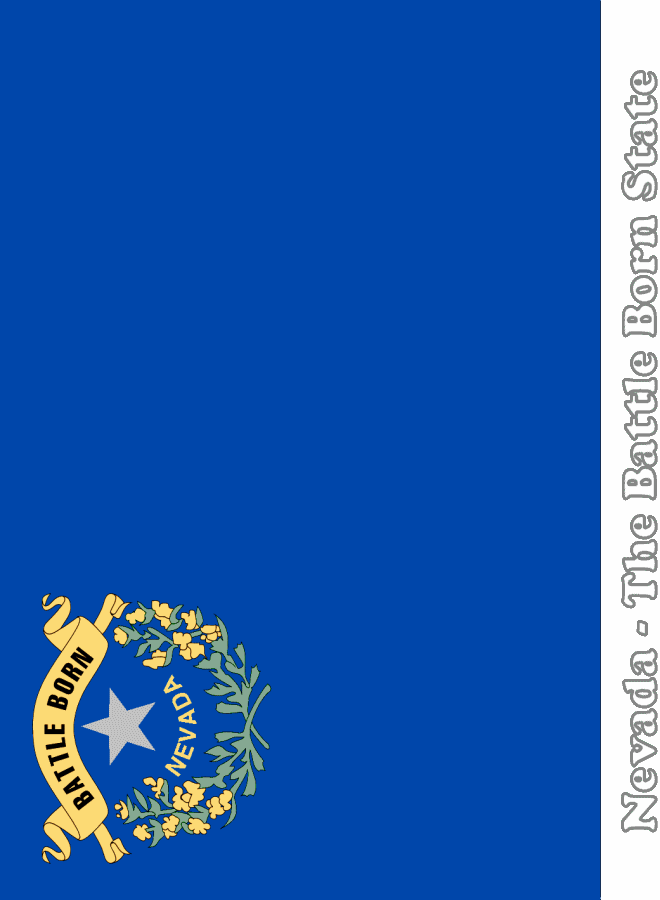 Nevada Law
The following information was excerpted from the Nevada Revised Statutes, Title 19, Section 235.020.
TITLE 19--MISCELLANEOUS MATTERS RELATED TO GOVERNMENT AND PUBLIC AFFAIRS
State Emblems; Gifts and Endowments
MISCELLANEOUS STATE EMBLEMS
SECTION NRS 235.020
NRS 235.020 State flag. The official flag of the State of Nevada is hereby created. The body of the flag must be of solid cobalt blue. On the field in the upper left quarter thereof must be two sprays of Sagebrush with the stems crossed at the bottom to form a half wreath. Within the sprays must be a five-pointed silver star with one point up. The word "Nevada" must also be inscribed below the star and above the sprays, in a semicircular pattern with the letters spaced apart in equal increments, in the same style of letters as the words "Battle Born." Above the wreath, and touching the tips thereof, must be a scroll bearing the words "Battle Born." The scroll and the word "Nevada" must be golden-yellow. The lettering on the scroll must be black-colored sans serif gothic capital letters.
[1:147:1929; NCL § 7020]—(NRS A 1991, 773)
---
Sources...
The State of Nevada. The Nevada Legislature. NEVADA REVISED STATUTES. Carson City: The State of Nevada, 2011. Web. . .
---