---
Double click any word in document for definition.
Mississippi State Flag
Mississippi State Flag
Adopted:
February 7, 1894
Print Flag Image
Left-click on the image below to print the flag image. A window will be displayed that will allow you to print the image or cancel the print operation. JavaScript must be enabled within your browser.
To learn about how the Mississippi state flag came to be adopted, click here.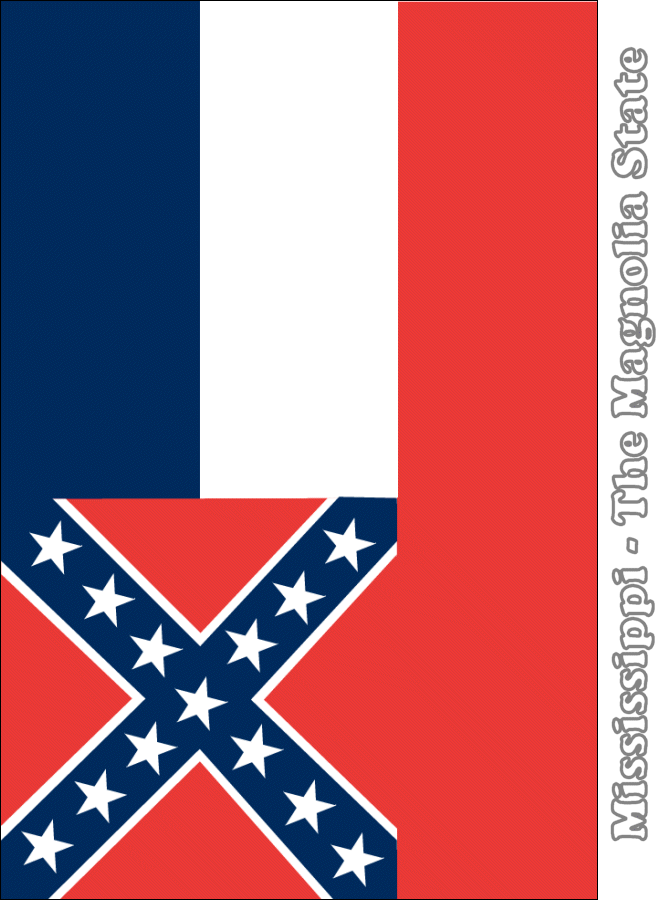 Mississippi Law
TITLE 3. STATE SOVEREIGNTY, JURISDICTION AND HOLIDAYS.
CHAPTER 3. STATE BOUNDARIES, HOLIDAYS, AND STATE EMBLEMS.
§ 3-3-15. Display of state flag.
The state flag may be displayed from all public buildings from sunrise to sunset; however, the state flag may be displayed from all public buildings twenty-four (24) hours a day if properly illuminated. The state flag should not be displayed when the weather is inclement, except when an all-weather flag is displayed. The state flag shall receive all of the respect and ceremonious etiquette given the American flag. Provided, however, nothing in this section shall be construed so as to affect the precedence given to the flag of the United States of America.
Sources: Codes, 1942, § 6216-08.5; Laws, 1962, ch. 492, §§ 1-3; Laws, 1984, ch. 357, eff from and after passage (approved April 16, 1984).
§ 3-3-16. Design of state flag.
The official flag of the State of Mississippi shall have the following design: with width two-thirds (2/3) of its length; with the union (canton) to be square, in width two-thirds (2/3) of the width of the flag; the ground of the union to be red and a broad blue saltire thereon, bordered with white and emblazoned with thirteen (13) mullets or five-pointed stars, corresponding with the number of the original States of the Union; the field to be divided into three (3) bars of equal width, the upper one blue, the center one white, and the lower one, extending the whole length of the flag, red (the national colors); this being the flag adopted by the Mississippi Legislature in the 1894 Special Session.
Sources: Laws, 2001, ch. 301, § 2, eff from and after February 7, 2001 (the date the United States Attorney General interposed no objection under Section 5 of the Voting Rights Act of 1965, to the addition of this section.)