HOME
INTRO
SYMBOLS
ALMANAC
ECONOMY
GEOGRAPHY
STATE MAPS
PEOPLE
FORUM
NEWS
COOL SCHOOLS
STATE QUIZ
STATE LINKS
BOOK STORE
MARKETPLACE
NETSTATE.STORE
NETSTATE.MALL
GUESTBOOK
CONTACT US


---
Double click any word in document for definition.
Missouri State Flag
Missouri State Flag
Adopted:
March 22, 1913
Print Flag Image
Left-click on the image below to print the flag image. A window will be displayed that will allow you to print the image or cancel the print operation. JavaScript must be enabled within your browser.
To learn about how the Missouri state flag came to be adopted, click here.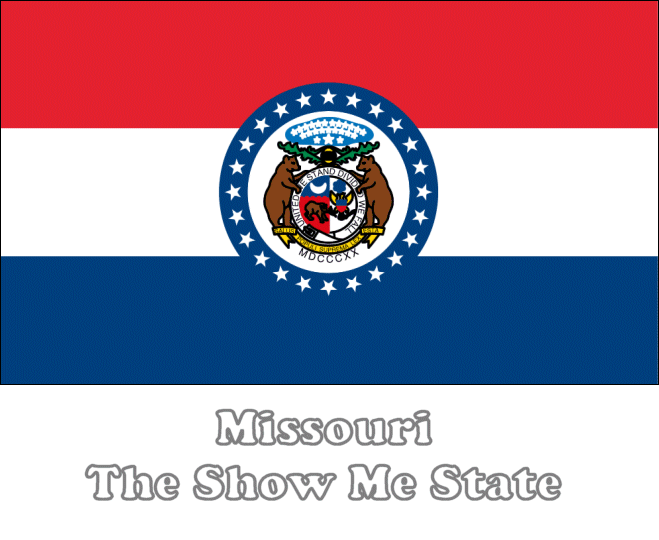 Missouri Law
the following information was excerpted from the Missouri Revised Statutes, Title 2, Chapter 10, Section 10.020.
TITLE II: SOVEREIGNTY, JURISDICTION AND EMBLEMS.
CHAPTER 10: STATE EMBLEMS.
SECTION 10.020.
Flag, official--design of--original design--where kept.
10.020. The official flag of the state of Missouri is rectangular in shape and its vertical width is to the horizontal length as seven is to twelve. It has one red, one white and one blue horizontal stripe of equal width; the red is at the top and the blue at the bottom. In the center of the flag there is a band of blue in the form of a circle enclosing the coat of arms in the colors as established by law on a white ground. The width of the blue band is one-fourteenth of the vertical width of the flag and the diameter of the circle is one-third of the horizontal length of the flag. In the blue band there are set at equal distances from each other twenty-four five-pointed stars. The original copy of the design shall be kept in the office of the secretary of state. The flag shall conform to the design set out on page xxx, RSMo.
(RSMo 1939 § 15438, RSMo 1949 § 10.080, A.L. 1957 p. 726)
Prior revisions: 1929 § 14313; 1919 § 1160