HOME
INTRO
SYMBOLS
ALMANAC
ECONOMY
GEOGRAPHY
STATE MAPS
PEOPLE
FORUM
NEWS
COOL SCHOOLS
STATE QUIZ
STATE LINKS
BOOK STORE
MARKETPLACE
NETSTATE.STORE
NETSTATE.MALL
GUESTBOOK
CONTACT US

---
Double click any word in document for definition.
Idaho State Flag
Idaho State Flag
Adopted:
March 12, 1907
Print Flag Image
Left-click on the image below to print the flag image. A window will be displayed that will allow you to print the image or cancel the print operation. JavaScript must be enabled within your browser.
To learn about how the Idaho state flag came to be adopted, click here.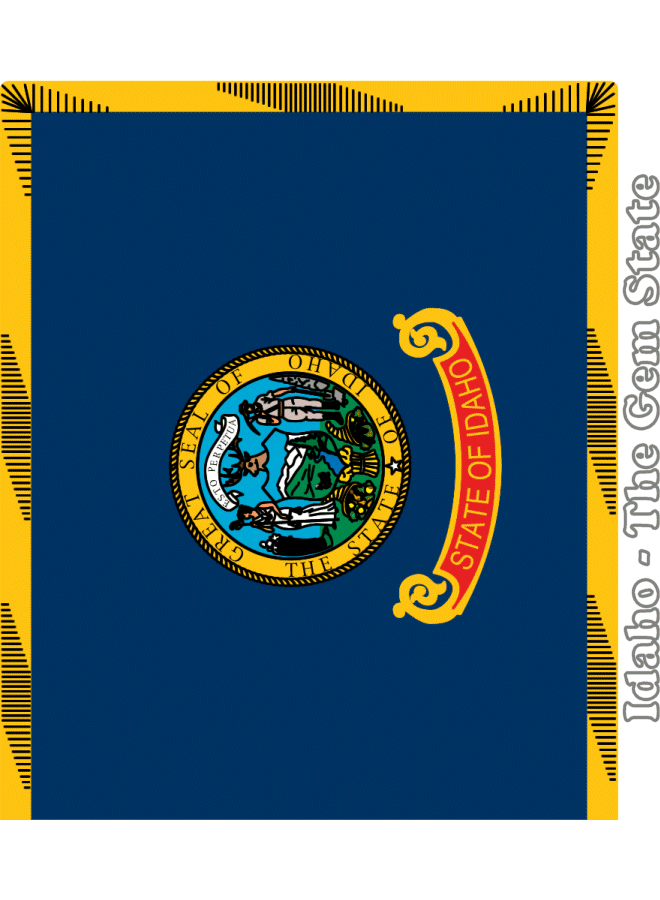 Idaho Law
The following information was excerpted from the Idaho Statutes, Title 46, Chapter 8.
TITLE 46. MILITIA AND MILITARY AFFAIRS.
CHAPTER 8. MISCELLANEOUS AND GENERAL PROVISIONS.
46-801. STATE FLAG. A state flag for the state of Idaho is hereby adopted, the same to be as follows:
A silk flag, blue field, five (5) feet six (6) inches fly, and four (4) feet four (4) inches on pike, bordered with gilt fringe two and one-half (2 1/2) inches in width, with state seal of Idaho twenty-one (21) inches in diameter, in colors, in the center of a blue field. The words "State of Idaho" are embroidered in with block letters, two (2) inches in height on a red band three (3) inches in width by twenty-nine (29) inches in length, the band being in gold and placed about eight and one-half (8 1/2) inches from the lower border of fringe and parallel with the same.
---
Sources...
Source: State of Idaho Legislature, Idaho Statutes, , August 10, 2007.
---