Kansas Law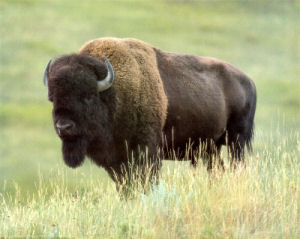 Kansas State Animal: American Buffalo
Photographs, prints, and posters
The following information was excerpted from the Kansas Statutes, Chapter 73, Section 73-1301.
Chapter 73.--SOLDIERS, SAILORS AND PATRIOTIC EMBLEMS
Article 14.--STATE ANIMAL
Section 73-1301
73-1401. American buffalo. The American buffalo (Bos or Bison americanus) is hereby designated and declared to be the official animal of the state of Kansas.
History: L. 1955, ch. 343, § 1; June 30.
Additional Information
Buffalo in Kansas: Kansas Historical Society.
American Bison: The Great Plains Nature Center.
Bison bison (American bison): Information about American bison from the Smithsonian National Museum of Natural History.
Bison bison (American bison) Information and pictures from the University of Michigan Museum of Zoology's Animal Diversity Web.
Bison bison (Linnaeus, 1758): Integrated Taxonomic Information System (ITIS) Here you will find authoritative taxonomic information on plants, animals, fungi, and microbes of North America and the world.
Bison bison (American buffalo): CalPhoto photographs. The Biodiversity Sciences Technology group (BSCIT), a part of the Berkeley Natural History Museums at the University of California, Berkeley.
State Animals: Complete list of official state animals.
More symbols & emblems: Complete list of official Kansas state symbols.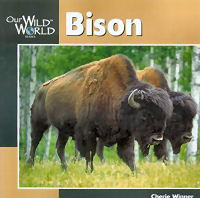 Bison
by Cherie Winner
Bison, by Cherie Winner. 48 pages. NorthWord Books for Young Readers (March 25, 2001) Reading level: Ages 9-12. At one time, there may have been as many as 200 million bison in North America. These wooly icons of the western plains are popular topics for kids to read about, and this fun book explores all the questions they may ask, including: How fast can a bison run? What is a wallow? Why do bulls bellow? When are calves born? How big is a herd? And many more.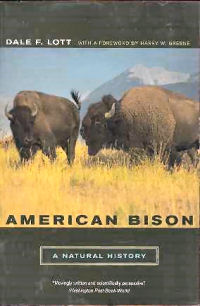 American Bison: A Natural History
by Dale F. Lott
American Bison: A Natural History, by Dale F. Lott. 245 pages. University of California Press; 1 edition (November 1, 2003) American Bison combines the latest scientific information and one man's personal experience in an homage to one of the most magnificent animals to have roamed America's vast, vanished grasslands. Dale F. Lott, a distinguished behavioral ecologist who was born on the National Bison Range and has studied the buffalo for many years, relates what is known about this iconic animal's life in the wild and its troubled history with humans.
Buffalo Book: The Full Saga Of The American Animal, by David A. Dary. 384 pages. Swallow Press; 1 edition (December 1, 1989) The journals and memoirs of 19th century explorers and travelers in the American West often told of viewing buffalo massed together as far as the eye could see. This book appropriately covers the subject of the buffalo as extensively as that animal covered the plains.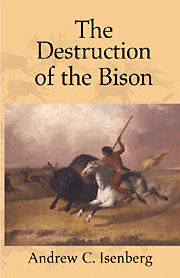 The Destruction of the Bison
by Andrew C. Isenberg
American Buffalo: In Search of a Lost Icon, by Steven Rinella. 288 pages. Spiegel & Grau (December 2, 2008) A hunt for the American buffalo-an adventurous, fascinating examination of an animal that has haunted the American imagination.
The Destruction of the Bison: An Environmental History, 1750-1920, by Andrew C. Isenberg. 218 pages. Cambridge University Press (January 15, 2001) Isenberg (History, Princeton) employs interdisciplinary methodology to explain the ecosocial factors that led to the destruction of 30 million bison during a 50-year period. Tracing the movement of Native American tribes from sedentary cultures to hunting societies that depended upon the horse to hunt bison on the Great Plains, the author discusses the impact of Euroamerican economics on the Native peoples.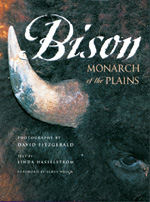 Bison: Monarch of the Plains
by by David Fitzgerald, Linda M Hasselstrom
A Buffalo in the House: The True Story About a Man, an Animal, and the American West, by R. D. Rosen. 256 pages. New Press; illustrated edition edition (June 1, 2007) Veryl Goodnight and Roger Brooks are not your ordinary animal lovers. Over a hundred years after Veryl's ancestors, Charles and Mary Ann Goodnight, hand-raised two baby buffalo to help save the species from extinction, the sculptor and her husband adopt an orphaned buffalo calf of their own. Against a backdrop of the old American West, A Buffalo in the House tells the story of a household situation beyond any sitcom writer's wildest dreams.
Bison: Monarch of the Plains, by David Fitzgerald, Linda M Hasselstrom. 128 pages. Publisher: Graphic Arts Center Publishing Company (October 1, 1998) More than any other animal, the bison symbolizes the American West. David Fitzgerald's stunning photos and Linda Hasselstrom's moving text present this awesome beast in its ancient and contemporary grandeur.