---
Double click on word for definition.
Washington State Amphibian
Pacific Chorus Frog
Pseudacris regilla
Adopted:
April 30, 2007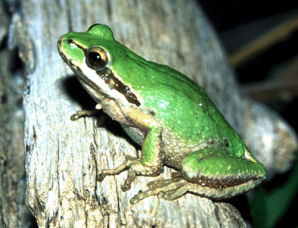 Washington State Amphibian: Pacific chorus frog
Photograph: Chris Brown/WERC
Third-graders at Boston Harbor Elementary School in Olympia Washington were on a mission. They wanted to make sure that Washington had an official state amphibian and they wanted it to be the Pacific chorus frog (Pseudacris regilla).
Every student in Keitlyn Watson's class took part in the project which involved a good bit of research as well as testimony before State Government Committee of the Washington State Legislature.
Representative Brenda Williams, of Olympia, represented her constituency well, as she sponsored and then guided House Bill No. 1069 through the legislative process.
By mid-April, 2007, the legislation had been approved by the Washington House of Representatives and the State Senate.
It was delivered to the governor for her signature on April 17th.
On April 30, 2007, Governor Christine Gregoire signed the legislation, declaring the Pacific chorus frog "the official amphibian of the State of Washington."
The law went into effect on July 22, 2007.
Additional Information
Symbols of Washington State: List of Washington state symbols provided by the Washington State Legislature.
Pacific treefrog: Washington Department of Natural Resources Herp Atlas.
Pacific Treefrog Pseudacris regilla: Unites State Geological Survey (USGS): Northern Prairie Wildlife Research Center.
Pseudacris regilla Pacific Treefrog, Pacific Chorus Frog: University of California, Berkley: AmphibiaWeb.
Pseudacris regilla: Photgraphs of the Pacific chorus frog from the Biodiversity Sciences Technology Group at the University of California, Berkeley.
Pseudacris regilla Pacific Treefrog: The Encyclopedia of Life.
Pseudacris regilla (Baird and Girard, 1852): United State Geological Survey (USGS): Integrated Taxonomic Information System (ITIS).
Pseudacris regilla - (Baird and Girard, 1852): Natureserve Explorer: An online encyclopedia of life.
State amphibians: Complete list of official state amphibians.
Frog and Toad Posters and Prints: Frog and toad posters and prints from AllPosters.com.
What is an Amphibian? (The Science of Living Things) , by Bobbie Kalman and Jacqueline Langille, 32 pages, Crabtree Publishing Company (2000). Reading level: Ages 9-12. The large, full-color photographs and illustrations that pepper every page of these books will catch the eye of browsers but it is the informative, easy-to-read texts that will hold interest.
Peterson First Guide to Reptiles and Amphibians , by Robert C. Stebbins, Joseph T. Collins and Roger Conant. Edited by Roger Tory Peterson. 128 pages, Houghton Mifflin Harcourt (April 15, 1999). From mudpuppies to rattlesnakes, this fascinating guide for young nature lovers describes the habits and habitats of these secretive and sometimes bizarre animals, and includes tips on how to catch and care for frogs, snakes, turtles, lizards, salamanders, and toads.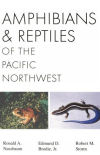 Amphibians and Reptiles of the Pacific Northwest, by R. A. Nussbaum and Edmund D. Brodie. 336 pages. University of Idaho Press (August 1983) Written by outstanding authorities in the field, this Northwest guide tells in interesting and readable fashion how to find and identify the various salamanders, frogs, turtles, lizards, and snakes that inhabit Washington, Oregon, Idaho, and British Columbia.
Firefly Encyclopedia of Reptiles and Amphibians, edited by Tim Halliday and Kraig Adler, 240 pages, Firefly Books (September 7, 2002). With lush color photographs and lavishly detailed illustrations, this encyclopedia presents a striking abundance of information at a glance. Also noteworthy is the scholarly text, a comprehensive overview of these frequently studied phyla.
Care and Breeding of Popular Treefrogs: A Practical Manual for the Serious Hobbyist, by Philippe de Vosjoli, Robert Mailloux, Drew Ready. 205 pages, Advanced Vivarium Systems (January 1, 1997) This book is written by experienced and recognized frog herpetoculturists and focuses on the care of popular tree frogs now sold in significant numbers. It covers many important topics that are required knowledge for successful keeping. Acclimating imported species, housing, feeding and captive breeding are included. A practical manual for the serious hobbyist.
Frogs, Toads, and Treefrogs: Everything About Selection, Care, Nutrition, Breeding, and Behavior, by R. D. Bartlett and Patricia P. Bartlett. 104 pages. Barron's Educational Series (February 1, 1996) This manual includes detailed instructions for maintaining a proper terrarium, taking preventative measures against parasites and disease, ensuring a healthful diet for your amphibians, profiles of popular species, and more.
Reptiles & Amphibians for Dummies, by Patricia Bartlett, 360 pages, For Dummies; 1st edition (June 1, 2003) This essential guide tells you what you must know before you own a reptile or amphibian, with authoritative advice on everything from proper caging and feeding to health care, socializing, transporting, and more. You'll find out about the different species, normal and abnormal behavior, the basics of breeding, and complying with laws.