The Rhode Island State Quarter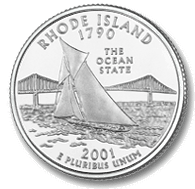 The Rhode Island State Quarter is the third commemorative quarter to be released in 2001. Its release, on May 21, marks a first in American History. According to Jay W. Johnson, Director of the U.S. Mint, "The launch of the Rhode Island quarter marks an important moment in American history and a milestone for the 50 State Quarters Program. For the first time, the first 13 states, and the 13 original colonies will be commemorated on American circulating coinage. The story of our nation, great symbols of our democracy and significant moments from our history are now represented on U.S. currency."
The Rhode Island quarter honors the "Ocean State" with a picture of a beautiful vintage sailboat moving through Narragansett Bay with the Pell Bridge in the background. Sailing is, of course, the most popular sport in the smallest state in the union. With over 400 miles of coastline and more than 100 fresh and salt water beaches Rhode Island was home to the Americas Cup for more than 50 years and is widely known as the Sailing Capital of the World.
Selection of the design for the quarter was initiated when the Rhode Island State Council on the Arts, under the order of Governor Lincoln Armand, established a "Coin Concept Advisory Panel." This panel received over 500 design submissions. They went to work and narrowed the field to three finalists. The voters of Rhode Island selected the winning design with 57% of the vote.
Cannons fired and a parade of vintage yachts circled off the coast today as dignitaries, schoolchildren and the general public gathered at Fort Adams State Park in Newport to honor Rhode Island and the release of the newest state quarter.
Governor Armand stated, "Today is a great day for the State of Rhode Island. The release of the Rhode Island quarter marks the culmination of a process that involved the public in choosing the themes and, ultimately, the design that will convey our state's heritage to the rest of the nation. The 50 State Quarters Program has given all Rhode Islanders a wonderful opportunity to share our unique character with America."
Source: United States Mint, http://www.usmint.gov, August 9, 2001.