The New Jersey State Quarter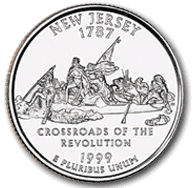 Based on an 1851 painting by Emmanuel Leutze called "Washington Crossing the Delaware," the design on the New Jersey state quarter depicts General George Washington and his soldiers crossing a dangerous ice-strewn Delaware River into Trenton, NJ, on their way to important Revolutionary War victories over British troops; the capture of Trenton and Princeton.
The setting was a cold Christmas night in 1776 and the Delaware River was frozen in many places. General George Washington strategized that the British would not be expecting an assault in this very inclement weather. He and his soldiers courageously crossed the Delaware River into Trenton and, using surprise as their greatest weapon, captured over 900 prisoners and secured the town. Later that night, his army moved on Princeton. Again taking the enemy by surprise, victory was secured by the patriots. These two victories were very important to the morale of Washington's army and gave the soldiers courage, hope, and newfound confidence. The ammunition, food and other supplies confiscated from their captives also helped them to survive the brutal winter of 1777.
Source: United States Mint, http://www.usmint.gov, January 17, 2000.