Ring W. Lardner
Born: March 6, 1885
Place: Niles, Michigan
Died: September 25, 1933
Place: East Hampton, Long Island, New York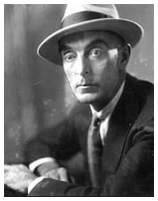 Ring W. Lardner was born in Niles, Michigan, on March 6, 1885. He attended local schools and graduated from high school in Niles. He went on to study at the Armour Institute of Technology in Chicago. In 1905 he became a reporter for the Times in South Bend, Indiana. He moved back to Chicago in 1907 to begin a long career as a newspaper columnist and sports writer. His sports features in prominent Chicago newspapers, such as the Examiner and the Times, became very popular, especially his baseball columns.
In 1914, Ring Lardner began writing short stories about baseball. He used his witty, satirical style to create a world of colorful sports characters, but his talent soon expanded beyond the world of baseball to include characters from all walks of American life. Lardner's writing was often humorous, and sometimes biting. He had an ear for the vernacular, and he was a master at capturing the idiosyncrasies of American's speech patterns. His characters' dialects and choice of words helped create very memorable personalities. He used his characters skillfully to bring humor and realism into his stories. As his short story writing became more and more popular, author F. Scott Fitzgerald took notice, and helped Lardner publish How To Write Short Stories. But it is his humorous stories that will always define Ring Lardner as an American writer.
If you have never read any of his stories, do yourself a favor and pick up one of the collections that are still available. Many of Ring Lardner's best-known stories, like Haircut, Alibi Ike, The Love Nest, Zone of Quiet, and Champion are assembled into a great collection called Haircut: And Other Stories. Click to purchase this celebration of the Americans that caught Lardner's eye.
Also available is a collection of Lardner's early baseball stories. Click here to get The Annotated Baseball Stories of Ring W. Lardner, 1914-1919, edited by George W. Hilton.
---