Henry Ford
Born: July 30, 1863
Place: Greenfield, Michigan
Died: April 7, 1947
Place: Dearborn, Michigan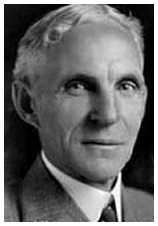 Henry Ford, one of Michigan's most famous sons, was born in Greenfield, Michigan on July 30, 1863. His parents had immigrated from Ireland, and raised six children on their Greenfield farm, which was outside of Dearborn. Henry was educated in the Greenfield school district, which was typical of many rural American districts of the times, offering a small schoolhouse atmosphere for the education of its youngsters. And like many rural families, the Fords all helped out on the family farm. Henry grew up knowing the physical labor of farm chores, but even as a young boy he was lured by the promise of things mechanical. When he was 16, he became a machinist's apprentice in Detroit. Fascinated with mechanics, he spent a lot of time tinkering on his own, and earned money by operating and repairing steam engines, as well as working in nearby factories and mills. Ford became friends with inventor Thomas Edison, and the two exchanged ideas and encouragement. In 1891 he was hired by the Edison Illuminating Company in Detroit, and in 1893 he was promoted to chief engineer.
In 1903, Henry Ford established the Ford Motor Company in Detroit. When the company first started, it was producing a few cars a day on a made-to-order basis. In 1908, Ford introduced his Model T. It was a hit across America, ushering in a new era in the history of personal transportation. The Model T was affordable and easy to operate and maintain. But its popularity forced Ford to rethink his production methods. In 1910, Henry Ford opened a new factory in Highland Park, Michigan. Within a few years, Ford showed the world how a high-volume manufacturing operation could successfully produce a mass product. He instituted the concept of the assembly line, allowing workers to concentrate on specific assembly details. Parts moved along conveyor belts to where the workers were stationed, increasing the efficiency of assembly. In 1914, Ford offered his workers a profit-sharing plan. In addition, he paid his workers a very decent wage for the times, at an unheard-of $5.00 an hour minimum rate. The combination of worker loyalty and efficient production operations for his Model T propelled the Ford Motor Company into the forefront as the world's largest automobile manufacturer. Ford and his automobile changed America and the world forever. The manufacturing plant grew to become a mammoth industrial complex. By 1920, Ford's operation had transformed the Dearborn, Michigan area into a huge conglomeration of steel mills, foundries, forges, glass factories, and assembly plants. Mass production became a reality, and Ford saw his automobile manufacturing operation encompass the entire process, from the refining of the raw materials all the way to the final product rolling off the assembly line. At the same time, America's physical landscape began to change as a result of the automobile. Roads were constructed across America to accomodate the automobile as people fell in love with their new mode of affordable transportation. A mobile America spurred the growth of roadside restaurants, service stations, motels, attractions, and new destinations across the country.
Henry Ford died at the age of 83 in Dearborn, Michigan on April 7, 1947. The Ford Motor Company still thrives today as one of the world's great manufacturing operations, and as one of Detroit's "big three" automakers. Henry Ford was unique among inventors and thinkers because he not only had that extraordinary vision of what "could be", but he was able to implement his ideas. In 1926, Ford published his own exploration of how he viewed his times and how he looked at the future in his book Today and Tomorrow. This 1926 classic was re-released in 1988 as an updated special edition, which we offer here through our association with Amazon.com.
Younger readers, grades 4 through 8, will enjoy Catherine Gourley's Wheels of Time: A Biography of Henry Ford.
We also suggest that you look at the VHS video Biography - Henry Ford in A&E's biography series.
---