Jack Roosevelt (Jackie) Robinson
Born: January 31, 1919
Place: Cairo, Georgia
Died: October 24, 1972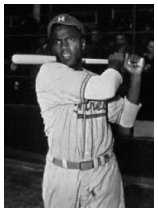 Jack Roosevelt (Jackie) Robinson was born on January 31, 1919 in Cairo, Georgia. There were five children in Jackie's family, and he was the youngest. His mother raised the family, and she decided when Jackie was still a youngster to move the family to California. They settled in Pasadena. As Jackie went through the local schools, he began to play sports, and he soon showed that he was a very capable athlete. He attended the John Muir Technical High School in Pasadena, and he made a name for himself as a star athlete in just about any sport he tried. He led his high school in basketball, baseball, football, and in track. After high school, he entered Pasadena Junior College where he joined the track team, and broke the national junior college long jump record. He continued his amazing athletic career when he went on to UCLA and showed his stuff on their track, baseball, and football teams.
In 1945, Jackie Robinson knew that he wanted to keep playing baseball. As a black man, he also knew that his options for playing professionally were limited, since America's major league baseball teams had never included a black man on their rosters. So Jackie joined up with the Kansas City Monarchs, a Negro League baseball team. History was in the making, though. At this time, Branch Rickey was the owner of the Brooklyn Dodgers, and Rickey had decided that he was going to integrate America's professional major league baseball. Jackie Robinson caught his eye, and Rickey signed Robinson on and brought him in to the Dodger's Montreal Royals farm team. In 1947, Jackie Robinson became the first black person to play major league baseball as he put on a Brooklyn Dodgers uniform for the opening of the Dodger's season.
Jackie Robinson's career in major league baseball was never easy, but his outstanding athletic ability was complemented by his poise and self-assuredness. He was named Rookie of the Year during that first year on the Dodgers. His major league career spanned ten years. He had a lifetime batting average of .311. In 1949 he won the league's batting title with .346 batting average. He shined at the plate as well as on the field. He hit, ran, fielded, and stole bases. He played in six All-Star games and six World Series games. In 1962, he was elected to the Baseball Hall of Fame. Jackie Robinson died in 1972, but his name will live forever.
Find out more about one of America's great baseball players and inspirational heroes by clicking on any of the following links to Amazon.com. We recommend Jackie Robinson's own autobiograpy, I Never Had It Made : An Autobiography (Dark Tower Series), by Jackie Robinson, with an introduction by Hank Aaron.
Or, pick up Jackie Robinson : A Biography, a very complete biography by Arnold Rampersad.
For readers in the 9-12 age group, we recommend Jackie and Me: A Baseball Card Adventure, by Dan Gutman. It is a clever and interesting travel back in time to meet the real Jackie Robinson.
---