James Earl (Jimmy) Carter
Born: October 1, 1924
Place: Plains, Georgia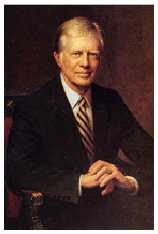 Jimmy Carter was born in Plains, Georgia on October 1, 1924. His full name is James Earl Carter, Jr., but he has always preferred to be called Jimmy. As a boy, he attended public schools in Plains and lived on his family's farm. He did well in school, and at home he was involved in the family's discussions ranging from the business of his father's peanut farm to local and world politics. Carter continued his education at Georgia Southwestern, the Georgia Institute of Technology, and then the U.S. Naval Academy, where he earned his Bachelor of Science degree in 1946. He furthered his study of nuclear physics with graduate work at Union College.
Carter pursued his career in the U.S. Navy until 1953. He served on submarines, became a Lieutenant Senior Grade, and worked on the country's nuclear submarine program under Admiral Hyman Rickover. Jimmy Carter's father passed away in 1953, and Carter decided to leave the Navy and return to Plains, Georgia to head up his family's peanut business. He succeeded in running the business profitably and also became involved in local politics. He ran for the Georgia Senate in 1962, and won. On January 12, 1971 he became the state of Georgia's 76th governor. During his governorship, he spoke out on topics he strongly believed in, such as ending racial discrimination, and he began to form alliances with civil rights leaders. In 1974, Carter declared that he would seek the office of President of the United States. His candidacy was an uphill battle, but he secured the 1976 Democratic nomination, and went on to defeat incumbent president Gerald R. Ford in the general election. Carter became the nation's 39th president, with Walter F. Mondale, Senator from Minnesota as vice president.
Carter's presidency enjoyed its successes, but foreign and domestic problems did not make it a smooth ride. Carter was a strong proponent of human rights, the environment, and responsible government. He established a national energy policy in response to rapid price increases and shortages after the Iranian revolution. He fought for treaties with Panama that would return control of the Panama Canal to Panama. Carter's devotion to peace efforts finally achieved a peace treaty between Israel and Egypt that was signed at Camp David in 1979. Carter and Soviet president Leonid Brezhnev signed the Salt II disarmament agreements for ratification, but then the Soviets invaded Afghanistan, and Carter retaliated with a U.S. trade embargo and a boycott of the 1980 Summer Olympics in Moscow. In 1979, the U.S. Embassy in Tehran was seized by a group of Iranians, and 55 hostages were taken captive. The "hostage crisis" remained a problem for Carter throughout the rest of his administration.
On the domestic scene, Carter's adminstration had difficulties controlling inflation and unemployment. He was successful with domestic social and environmental legislation, but he could not shake the "hostage crisis" or the country's economic problems, and Carter lost the 1980 presidential campaign to Ronald Reagan. Ironically, Iran released the hostages on the day that Jimmy Carter left office.
As a former U.S. President, Jimmy Carter has remained active in world and national affairs. He remains an advocate for human rights, civil rights, the environment, and world peace. In 1982 he founded the Carter Center in Atlanta, a non-profit organization that promotes peace and human rights throughout the world.
Jimmy Carter kept daily journals throughout his presidency, and has continued to write throughout his post-presidential career. We suggest that you read the following books by Jimmy Carter. Just click on the titles to purchase from Amazon.com:
Keeping Faith : Memoirs of a President A well-written account of his presidency, drawn from Carter's extensive daily journals.
The Blood of Abraham : Insights into the Middle East In a new edition of this national bestseller, Carter explores the history of each of the nations that comprise the Middle East, the reasons for their different goals, and the nature of their prime concerns.
Living Faith A very personal memoir of Jimmy Carter's more recent thoughts on life, spiritual faith, and the world.
---