Carson Smith McCullers
Born: February 19, 1917
Place: Columbus, Georgia
Died: September 29, 1967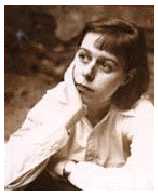 Carson Smith McCullers was born on February 19, 1917 in Columbus, Georgia. She began taking piano lessons as a young girl, and she soon became quite comfortable with the keyboard. By the time she entered Columbus High School, she had convinced herself that the piano would be her life's work and that she was going to become a concert pianist. She studied and practiced, and set her sights on attending a good music school, perhaps even New York's Julliard School of Music. But life does not always go as planned. McCullers suffered from a severe bout with rheumatic fever during her high school years, and the disease took a heavy toll on her health. She spent months recuperating, and she never really regained the health of her early youth. As a result, she practiced her music less and less until she no longer dreamed of making a career as a pianist.
Instead of focusing all her energy on music, she began to read, and then her reading led to writing. She graduated from Columbus High School in 1933 and stayed in Georgia for a year writing stories and plays. She sensed that she would not make it big in her surroundings, so she packed up and headed for New York City. Here she strived to become a better writer. It was a struggle to earn enough money to attend writing school, but she persevered and was able to enroll in Columbia's writing courses. She spent the next several years perfecting her craft, interrupting her studies and her writing to return home periodically to rejuvenate herself when her health dipped. But New York was the place for her and her writing. She grew acquainted with other literary people in New York, becoming an accepted literary person herself. She married and kept up her writing even through times of personal troubles and hardships.
Carson McCullers began to be published during the late 1930's, and by the early 1940's, she was established as a modern writer. During this period, she wrote novels, stories, and essays that became very successful. Writing was McCullers' life, and she was one of the most prolific authors of her time, with dozens and dozens of literary achievements to her credit. Many of these works are still quite popular. We offer you the following links to Amazon.com so that you can add these Carson McCullers pieces to your own library.
The Heart Is A Lonely Hunter is McCullers' classic masterpiece set in a small town in the South, a must-read for any McCullers' fan.
For a great collection of her best stories, purchase Collected Stories : Including the Member of the Wedding and the Ballad of the Sad Cafe.
For a revealing introspective look at the life and thoughts of Carson McCullers, you will want to buy Illumination and Night Glare : The Unfinished Autobiography of Carson McCullers. It is a very personal glimpse into the life of one of the South's great literary giants.
---