Richard Milhous Nixon
Born: January 9, 1913
Place: Yorba Linda, California
Died: April 22, 1994
Place: New York, NY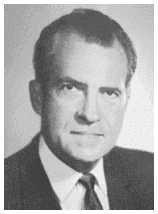 Richard M. Nixon, the 37th president of the United States, was born on January 9, 1913 in Yorba Linda, California. Nixon grew up in humble surroundings, and was raised as a Quaker. His father ran a local store, selling groceries and gasoline. Nixon's mother was very devoted to her Quaker religion, and had hoped that her son would grow up to become a Quaker missionary. But Richard Nixon had other leanings. He first set his sights on completing his education, and earning his right to practice law. This he accomplished, by graduating from Wittier College in 1934, and Duke Law School in 1937. As a young lawyer, Nixon married Patricia (Pat) Ryan in 1940. Richard Nixon and his wife Pat had two daughters, Patricia (Tricia)and Julie. World War II broke out, and Nixon served his country as a Navy Lieutenant Commander in the Pacific. When Nixon returned to the United States, he ran for Congress from his California district, and then in 1950 he was elected to the Senate. General Dwight D. Eisenhower chose Nixon to be his running mate in Eisenhower's bid for the Presidency. Eisenhower won, and Nixon became Vice President of the United States. Then 39, Nixon played an active role as Eisenhower's vice president from 1953 to 1961.
Nixon headed the Republican Party in the 1960 presidential campaign, but lost the election to John F. Kennedy. In 1968, however, Richard Milhous Nixon was elected the 37th President of the United States. Then four years later, he was re-elected to a second term by a resounding margin. Nixon's years in the White House had their high points and low points. During his presidency, Neil Armstrong walked on the moon, and Nixon made history by visiting China. But the Viet Nam War still plagued the nation, and then U.S. troops invaded Cambodia. The war cast a shadow over Nixon's successes. Then Nixon became embattled at home. Nixon's first vice president, Spiro T. Agnew, resigned amidst a tax-evasion scandal. Gerald R. Ford became Nixon's vice president in 1973. The Viet Nam War finally ended in 1973 under Nixon's presidency. Nixon set milestones in foreign policy by improving relations with both China and Russia. Nixon's Secretary of State Henry Kissinger relentlessly pursued negotiations in the Mideast, with Israel, Egypt, and Syria. Unfortunately, Nixon's second term in office became embroiled in the "Watergate" scandal. The scandal, which stemmed from a break-in at the Democratic National committee offices during Nixon's 1972 re-election campaign, was eventually traced to the Republican's committee to Re-elect the President. A series of attempted coverups, revealing tapes from the Oval Office, charges and denials all contributed to the downfall of the Nixon administration. Staff members resigned, some were fired, some were subsequently indicted, and Nixon was faced with near-certain impeachment. Richard M. Nixon became the first U.S. President to resign from office, which he did before a national television audience on August 8, 1974.
As a retired president, Nixon wrote books on his experiences in public life, and his views on foreign policy. He came to be regarded during these later years as one of America's elder statesmen. Richard M. Nixon died on April 22, 1994.
---