Earl Warren
Born: March 19, 1891
Place: Los Angeles, California
Died: July 9, 1974
Place: Washington, D.C.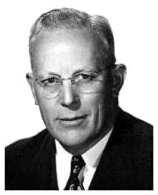 Earl Warren was born in Los Angeles, California, on March 19, 1891. He worked his way through school, received his law degree from the University of California, and began his legal career. After serving as Oakland's deputy attorney in 1919, he became Almeda County's District Attorney in 1925. Warren went on to serve as California's Attorney General beginning in 1939. From there, the people of California elected Earl Warren as the state's governor in the 1942 election, and then again in 1946 and 1950.
When Thomas E. Dewey ran for president in 1948, he asked Earl Warren to be his running mate. Dewey lost, and Warren did not get to be vice president. Some people backed Earl Warren as a presidential candidate in 1952, but General Dwight D. Eisenhower overshadowed Warren with his popularity. Eisenhower became President, and he appointed Earl Warren to be Chief Justice of the United States on March 1, 1953. As the 14th Chief Justice, Earl Warren secured himself a place in history for what came to be known as "The Warren Court". Pivotal landmark decisions were handed down during Warren's tenure. Warren had only been on the Court for a year when the historic Brown vs. Board of Education case established that segregated schools were not constitutional. In another of the many civil rights related cases that the Court ruled on, the famous Miranda vs. Arizona decision stated that people who were placed under arrest must be informed of their rights when they are arrested.
Warren drew a good deal of criticism during his tenure on the Supreme Court, and was denounced by conservative voices. He also became the subject of controversy when he headed The Warren Commission, which President Lyndon Johnson assembled to investigate the assassination of President John F. Kennedy. The Warren Commission's findings in the assassination investigation have been contested since their release to the public. Earl Warren stepped down as the nation's Chief Justice in 1969. He died in Washington, D.C. on July 9, 1974.
For a detailed look at the life of Earl Warren, click on these links:
Chief Justice : A Biography of Earl Warren by Ed Cray. This is a comprehensive and chronological account of Earl Warren, his life, and his accomplishments.
The Warren Court and the Pursuit of Justice : A Critical Issue, by Morton J. Horwitz. Written by a legal historian, this short book is geared toward the non-legal student or layperson seeking an overview of the way that the Warren Court changed the nation's civil jurisprudence.
---