Adlai Ewing Stevenson
Born: February 5, 1900
Place: Los Angeles, California
Died: July 14, 1965
Place: London, England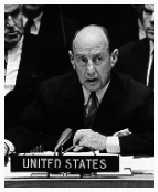 Adlai Ewing Stevenson was born in Los Angeles, California on February 5, 1900, into a family where politics was a way of life. As a boy, Adlai Stevenson grew up in Bloomington, Illinois. His father served as Illinois secretary of state, and was active in the Democratic Party. When Adlai was 12 years old, his father took him to visit Woodrow Wilson prior to the 1912 presidential campaign. In 1892 Stevenson's grandfather, also named Adlai, was chosen by Grover Cleveland to be vice president for Cleveland's second term in office. It would have been close to impossible to ignore the politics and politicians that were the background for daily life at the Stevenson home, and young Adlai willingly took it all in. The Stevenson family traveled frequently, and Adlai grew very well informed about national and global issues, through his travels, his reading, and his more formal education. He attended the Choate School, graduated from Princeton in 1922, and then received his law degree from Northwestern in 1926.
Stevenson entered the Illinois bar to practice law following his graduation from Northwestern. He married and had three sons. As a young lawyer, he honed his public speaking skills, and participated in Chicago political groups where he soon was speaking on world issues. In the 1930's Stevenson began his government career by working in Federal agencies. During World War II, he served as assistant to the Secretary of the Navy, and then as assistant to the Secretary of State. In 1945, Stevenson worked in the State Department and was an active participant in the discussions that led to the United Nations' Charter. He served as United Nations delegate from the U.S. in 1946 and 1947.
In 1948, Adlai Stevenson was elected Democratic governor of the state of Illinois. He had an admirable record as governor, and he began to attract national attention as the 1952 presidential election approached. Stevenson was looking forward to another term as governor of Illinois, but he accepted the Democratic draft to run for president. He was up against a formidable opponent, General Dwight D. Eisenhower. Stevenson's eloquence was no match for a national hero of Eisenhower's popularity, and Stevenson decisively lost the bid for the presidency. Throughout the Republican administration, Stevenson maintained a national profile, and he kept issues in the public arena. By the time the 1956 election rolled around, Stevenson was speaking confidently on global, as well as national issues. But again, Eisenhower was too popular to be unseated, and Stevenson lost his second attempt to become President. Again in 1960, Stevenson had to acquiesce, this time to the charm and charisma of John F. Kennedy, who took hold of the Democratic helm. Interestingly, many of Stevenson's ideas gained widespread acceptance as time went on. He had been a strong proponent of a ban on nuclear testing, and he had urged a halt to the arms race. In 1963, it was Kennedy's administration that signed an above-ground nuclear test ban treaty, one of Stevenson's agenda items. Kennedy designated Stevenson as ambassador to the United Nations in 1961, and he served as ambassador for the rest of his life.
Stevenson's eloquence, charm, wit, and knowledge of world affairs made him a very influential force in the U.N. He was always determined in his efforts to promote and defend U.S. policies to the U.N. Assembly, and he effectively provided America's voice to the world through that organization. Adlai Stevenson, American politician and statesman, died in London on July 14, 1965.
---