[ LOBBY | PEOPLE | COOKING | HISTORY | OUTDOORS | REFERENCE | TRAVEL | MORE ]

H I S T O R Y
Life in the Leatherwoods
by John Quincy Wolf
One of the countrys most delightful childhood memoirs, penned by an Ozark native with a keen, observant eye and a gift for narrative. John Quincy Wolfs relaxed style and colorful characters resemble those of another chronicler of nineteenth century rural life, Laura Ingalls Wilder. Wolfs acerbic wit and lucid prose infuse the White River pioneers of his story with such life that the reader participates vicariously in their log rollings, house raisings, spelling bees, hog killings, soap making, country dances, and camp meetings.

A Documentary History of Arkansas by C. Fred Williams (Editor)
The story of the birth and development of the nation's twenty-sixth state is told here in the documents of the era.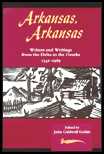 Arkansas, Arkansas: Writers and Writings from the Delta to the Ozarks, 1541-1969 by John Caldwell Guilds (Editor), Adapted by Maya Angelou and Miller Williams
Literary Journal:
"Covering 428 years of Arkansas history (from, roughly, Hernando de Soto's explorations to the integration of Little Rock's Central High School in the late 1950s), this chunky first volume of a two-volume set contains a generous selection of memoirs, history, poetry, folklore, short fiction, and frontier humor that together form a vivid record of a region's passage from violent wilderness to law-abiding state. A true charm of the book lies in the unfamiliar tall tales and unanthologized lyrics that are herein given another chance. Essential for readers who enjoy regional literature."

Arkansas, 1800-1860: Remote and Restless by Charles S. Bolton
Often thought of as a primitive backwoods peopled by rough hunters and unsavory characters early Arkansas was actually quite productive and dynamic. Bolton describes migration, agricultural, growth, religion, the roles of women, slavery, the dispossession of the, Quapaws and Cherokees and many other facets of Arkansass development.

They Sought a Land: A Settlement in the Arkansas River Valley, 1840-1870 by William Oates Ragsdale
In 1840 prosperous farming families left North and South Carolina to trek in covered wagons to the unsettled Arkansas River Valley. Absorbing to read and rich with colorful detail, this is a story of the peopling of the western frontier and the ways in which hardship religion and a shared past bound settlers together into a lasting community.

A Journal of Travels into the Arkansas Territory During the Year 1819 by Thomas Nuttall, Savoie Lottinville (Editor)
Covering Thomas Nuttalls travels in Arkansas and what is now Oklahoma this journal is filled with valuable details on the plants animals and geology of the region as well as penetrating observations of the resident native tribes the military establishment at Fort Smith and the beginnings of white settlement.

Colonial Arkansas 1686-1804: A Social and Cultural History by Morris S. Arnold
Meticulously researched highly readable profusely illustrated and broadly focused . . . unquestionably the most significant work ever written about Arkansas.
---
[ HOME || INTRO || SYMBOLS || ALMANAC || ECONOMY || GEOGRAPHY || STATE MAPS || PEOPLE ]
[ FORUM || NEWS || COOL SCHOOLS || STATE QUIZ || BOOK STORE || MARKETPLACE || STATE LINKS || MUSEUMS ]
|| GUESTBOOK || CONTACT US || PRIVACY STATEMENT ]
---
Site designed exclusively for NETSTATE.COM by NSTATE



NETSTATE.COM is a Trademark of NSTATE, LLC.
Copyright © 1998- by NSTATE, LLC. All rights reserved.
No copyright is claimed on non-original or licensed material.
Support NETSTATE